What Is A Portable 4g Router?
2022.08.02 / By hqt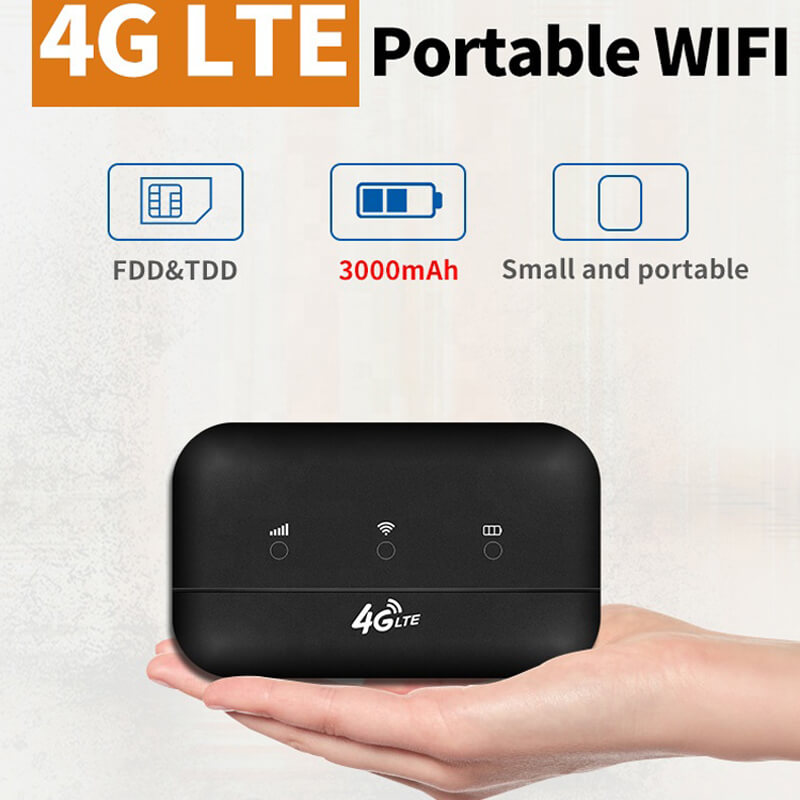 What is a portable 4G router? Wi-Fi routers are gadgets that allow you to connect your devices to the Internet while on the go. A portable router is usually wireless and connects to the Internet via a SIM card, LAN, or public Wi-Fi.
With a Wi-Fi router, you may connect to the Internet privately and securely. You can use it to connect several devices to the Internet at the same time. A hotspot is created using data from a source. Users can then connect their devices to this hotspot and access the Internet.
Having access to the internet is a need in everyone's daily routine. Almost everyone has access to the internet at all times. Because of this, cellular WiFi routers are becoming more and more popular. Even though 5G (5Ghz band) will revolutionize wireless connectivity in the near future, for now the best option is a 3G/4G router until it becomes more widely available.
A WiFi hotspot is a WiFi router or access point that is hooked up to a cellular ISP (Internet Service Provider). The hotspot sends out a signal that lets people close by connecting their wireless devices to the Internet.
How Does A Portable 4G Wifi Router Work
There are a number of ways to connect a portable Wi-Fi router to the Internet. A portable Wi-Fi router can be useful in many ways, such as the ones below:
1. Using an Ethernet connection
You can use this method if you only have one Ethernet or LAN connection but need to connect several devices to the Internet.
The cable should go into the right port on the Wi-Fi router.
In the device's settings, turn on Wi-Fi.
Getting online is easy if you connect to the router's wireless network.
2. Using a cellular network
This method can be used if your Wi-Fi router has a slot for a SIM card. With this method, you don't need a wired or wireless network to connect to your 3G or 4G Internet network.
Put the SIM card into the right slot on the router.
If the router hasn't been charged yet, plug it into a power source.
Connect your devices to the hotspot you set up in the third step. Public hotspots for Wi-Fi
3. Connect using public Wi-Fi
Your router should be able to connect to any public Wi-Fi network and make a safe connection with it.
Connect your router to a public Wi-Fi network that works and put in the password.
Find the option to turn off notifications in your device's settings or control panel.
Plug your portable router in to use a private and safe network.
Portable routers make life easier by letting you stay connected to fast, safe Internet even when you're on the go.
What Is A Sailsky 4g LTE Portable Router
Sailsky has a wide range of wireless routers and portable routers. They have 3G, 4G and 5G portable routers among which 4G router has gained much popularity. LTE routers have high upload and downloading speed while they are way faster to satisfy the needs of any general consumer.
The Sailsky XM205 4G LTE Wifi Wireless Router with Sim Card Slot and External Antenna is one of the most stunning Sailsky's production that has all the required features, consists of good quality material, fast, can connect 32+ people at once, and also they wide range.
Thanks to the premium quality, and modern machinery that has made Sailsky 4G LTE Portable Router manufacturing easier and effective.
Now let's talk a little more about Sailsky WIFI devices and then we will continue more about What is a portable 4G router? What is How To Restart Router? What Does Wps Mean On Any Router?
How To Restart Router
Is restarting the router a good idea?
Some Internet connection problems, like no Internet connection or slow wireless connections, can be fixed by restarting the router. This should be one of your first steps when troubleshooting in a home or consumer setting. Rebooting the router once in a while is also a good way to keep it safe.
How Often Should You Restart A Router?
It is best to restart a router once or twice in a month, this will make the connections stronger, fix any coverage issue, re-bind the ip address and strengthen the wireless signals. Many experts believe that a router should be given at least 15 minutes rest in a month to provide a stable network connection.
Steps to Restart A Router:
Turn off the switch from power outlet
Wait for at least 1 minute for router adapter to loose all the power and switch off the router
Turn on the switch from power outlet
Wait for a minute more for router to restore all the internet connections
Steps to Restart A Portable Router
Long press power button/or press power button to turn off the router
Wait for at least a minute to let portable router power off
Long press power button/or press the power button to start the portable router
Wait for it to start and begin internet access.
China's Biggest 4g Portable Router Manufacturer
Interesting note: Did you know Sailsky is one of the biggest 4g Portable Router manufacturers in China.
For those looking for the best WIFI Portable manufacturing company or 5G gadget manufacturing company should contact Sailsky for their fast production, certified QC passed.
If you want to contract for wholesale rates, contact the Sailsky team to help you complete the process for you.
For those looking for industrial use, Sailsky offers powerful routers that has capability to connect hundreds of users all at once, connect multiple routers and even run on a cellular network, providing 4G LTE or 5G internet speed!
How Easy Is It To Use A Portable Wifi Router?
Once it's charged, all you have to do is put in a SIM card and turn it on. Within seconds, you can use the internet on multiple devices at the same time. Some companies only sell portable WiFi hotspots that are locked, which means you can only use the SIM card from that company with it.
This can make it expensive to use when you travel. It's best to get an unlocked WiFi router so you can use any SIM in it. That way, if you need to, you can always get a different SIM to keep your costs down in the country you're visiting.
The ISP or SIM providers can offer you different packages that you can select based on your needs and you are good to explore the world!
Uses of a Portable WiFi Router?
You can use a portable WiFi router when you travel for business or pleasure, while walking around, at home, in a small office, or in the car (there are even special car WiFi devices).
You can connect your devices simultaneously, those of your family, and those of your business partners to a secure network so that you can all get online for cheap.
For those who love traveling but never want to cut-off their internet connection, If you have to travel for work, you can make sure that your productivity stays high while you are away. Most portable WiFi hotspots are small and light, so you can take them just about anywhere. Just make sure that the SIM card you use inside gives you good data rates where you are.
Conclusion:
As wired wireless routers make internet connection for all the devices connected wireless with the router, similarly a wireless, portable router provides internet to the devices connected with them. This means you don't have to worry about the range of wired network devices, you can simply put the portable wireless router in your pocket and you can continue your work from wherever you are!
Connect as many as 32 devices for a smart portable wifi router or 12 devices for a standard portable wifi router and enjoy the high-speed internet anywhere. Whether you are in a car, hotel, or at a picnic, these 4G LTE portable routers will provide you fast internet connection, long battery life, and flawless internet connection.
We are here to help you: Sailsky.