Small But Powerful: 4G LTE Wireless USB WiFi Modem
2022.10.13 / By hqt
What Is The 4G LTE Wireless USB WiFi Modem?
The WiFi Modem is a portable LTE wireless modem, which allows you to use your smartphone or tablet as an internet hotspot. This way, you can connect up to 10 devices at the same time to the internet using your own data plan. The modem supports both 2G and 3G networks.4G LTE Wireless USB WiFi Modem
The term "LTE" stands for Long Term Evolution, which is one type of fourth-generation cellular network technology used by mobile phone providers worldwide.
4G LTE is a high-speed wireless technology that allows you to connect to the internet at speeds up to 10 times faster than 3G networks. 4G LTE can be used on any device that has a WiFi adapter, including your smartphone and laptop computer.
The 4G LTE Wireless USB WiFi Modem is a portable device that allows you to connect multiple devices to the internet using your own data plan. It uses a SIM card to connect directly to your cell phone provider's network without having to be attached to a computer or laptop.
What Benefits Can "Small" Bring You?
The 4G LTE Wireless USB WiFi Modem is so lightweight that you can keep it in your trouser pocket or small handbag. It takes up no space at all. It is this lightness that brings more convenience to people. Such as:
When you are on the go, you do not need to take a laptop computer or notebook computer with you. All you need is the 4G LTE Wireless USB WiFi Modem and a smartphone or tablet computer to access the Internet wirelessly.
When you stay in the office and work on the laptop, you can use this device to connect to your office network via the Ethernet cable. Then you don't need to take a laptop with you when going out for business meetings. You only need to carry an extra USB drive to connect to the computer so that you can share files or update information on websites.
When you travel abroad, this device can be used to connect with local mobile networks or Wi-Fi hotspots, which allows you to make calls, send SMS messages, and surf websites.
When you are on vacation, there is no need for you to rent a car or book a hotel room with Wi-Fi. Just bring the 4G LTE Wireless USB WiFi Modem with you and use it anywhere.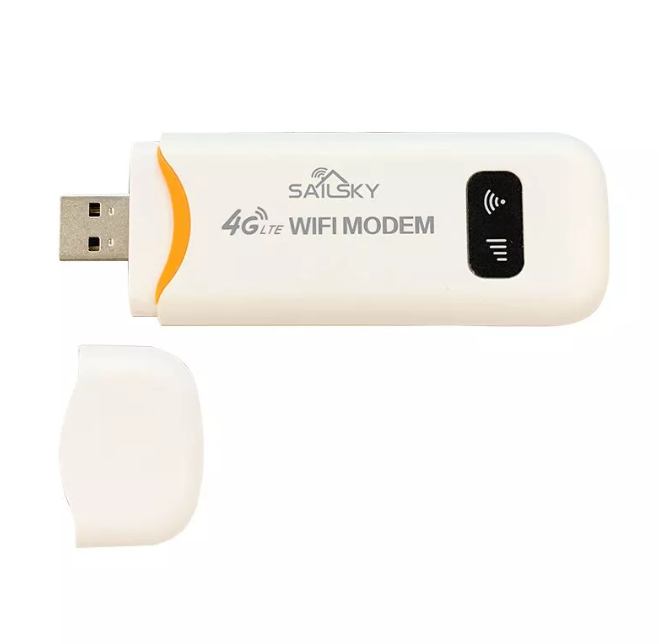 Features Of The 4G LTE Wireless USB WiFi Modem:
There are many modems on the market, but the 4G LTE Wireless USB WiFi Modem from Sailsky is surprisingly powerful. Next, here is a brief introduction to its features:
High-Speed Wireless Connection: 100mbps
The latest 4G FDD-LTE / TDD-LTE / WCDMA / GSM 3G/4G wireless broadband technology ensures that your computer can connect to the Internet at high speed. You can watch the high-definition video or play games online without interruption.
Meanwhile, its download speeds hit 150Mbps and upload speeds hit 50Mbps. It is compatible with most major brands of computers and laptops with an OTG port.
Provides 10+ Internet Device Sharing:
The 4G LTE Wireless USB WiFi Modem can share data with up to 10 devices at once. It also supports multiple operating systems and allows you to connect through an Ethernet cable. Moreover, it has a high-quality performance and low latency, so it's suitable for online gaming and video streaming.
Lightweight But Powerful:
This modem can connect to a 4G LTE network, allowing you to share high-speed Internet with multiple devices at the same time. You can also connect it to your computer or tablet via a USB cable, allowing you to enjoy fast wireless surfing. It's very easy to use, and it's lightweight so you can take it anywhere you go.
Easy Setup Process:
To set up the device, simply insert the SIM card into your computer and launch the software package available for free download on Sailsky's official website. The software will guide you through all steps required for setting up your device in minutes after entering your email address and password.
Compatible With All Cellular Carriers:
This device is compatible with all U.S. carriers including Verizon, AT&T, and Sprint. The 4G LTE Wireless USB WiFi Modem allows you to enjoy high-speed internet without having to worry about your monthly data limit because it supports unlimited data plans! You can also use it as a hotspot so that other devices can connect to your network while using less battery power than they would if they were on their own networks.
Why Choose Sailsky:
As a company that has been highly specialized in the production of wireless telecommunication network equipment since 2014, Sailsky's experience makes it the best choice for you. The following is a brief introduction to why you should choose Sailsky's modem:
Years Of Production Experience:
With years of production experience, Sailsky has accumulated rich technical resources and mature production technology, which enables them to provide its customers with high-quality products and services at competitive prices.
Mature And Professional R&D Team:
The company has a professional R&D team of 20 people with more than 8 years of experience in the industry. They are growing in the communications industry, developing better products for users in Sailsky. Their footprints spread from the first-generation RTL, the second-generation MTK, to the third-generation Qualcomm platform. He has rich experience in the development of much mainstream software (such as RT5350, LUNX, OpenWRT T, etc.).
Provide Personalized Service: OEM Service
They provide flexible and customized service according to customer needs. They have a strict quality control system and a professional R&D team who can optimize products according to your requirements. They also have excellent technical support. You can directly contact them when you need help with installation or troubleshooting.
Products Are Strictly Certified:
Their products are subject to strict quality control procedures before they reach the market. They use advanced testing equipment such as automated testing machines, spectrum analyzers, and signal analyzers to ensure that each product meets stringent standards. Also by offering high-quality products; they can help their customers gain advantages in competition.