Switch POE 8 Port: A Powerful Tool Supports Your 8 Devices
2022.11.12 / By hqt
Why Is The Switch POE 8 Port So Popular?
POE is short for Power over Ethernet. It is a technology that allows the transmission of power and data over a single Ethernet cable. It is used in situations where you have multiple devices that need power and you don't have an outlet nearby.
Switch POE 8 Port is a type of device that allows you to connect your devices with Ethernet cables and then provide power to them through the same cable. This device can save money because you do not need to buy additional power supply units for each device separately. You only need one Ethernet cable and then you will be able to connect multiple devices at once.
There are many reasons why people choose Switch POE 8 Port over other types of switches:
It saves your money:
Instead of buying a separate switch for each device, you can just use one Switch POE 8 Port that supports all of your devices. This means that you do not have to spend extra money on buying unnecessary devices and also avoid the hassle of connecting each device individually.
It is easy to set up:
Switch POE 8 Port does not require much technical knowledge because it comes preconfigured and ready for use right out of the box. You just need to plug it into an electrical socket and then connect it with an Ethernet cable from your router or modem and then you are done!
You can connect all your devices:
If you have many devices in your home or office, it is very difficult for you to manage them all using different types of cables. With this switch, you will be able to connect all your devices with just one cable, which makes it easier for you to manage them all at once.
Switch POE 8 Port Is A Powerful Tool That Supports Your 8 Devices At Once: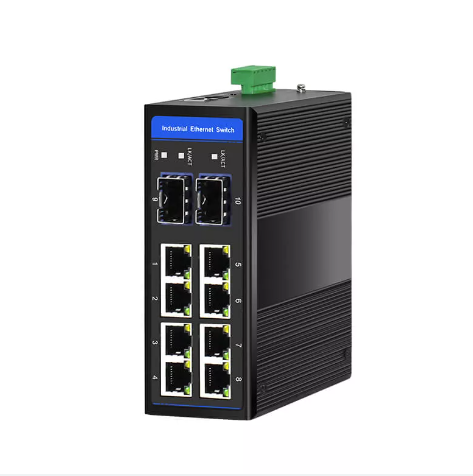 Sailsky's Switch POE 8 Port is a power switch. Like many switches on the market, it provides power and data conversion functions for many devices. However, it is different from the normal switches on the market: it is more powerful.
Multiple Interfaces:
The switch can be used in different ways, including the use of Ethernet cables and wireless links. It is a powerful tool that supports your 8 devices at once. This is a good choice for offices and homes with many devices that need to be charged.
Reliable And Durable:
The Switch POE 8 Port adopts the industrial standard SFP+ interface, which is stable and durable in use. It also supports a hot-swappable function to reduce maintenance costs. At the same time, the device's mean time between failure (MTBF) is greater than 363,000 hours. This shows that it is very reliable and durable.
No Noise Burden:
Because Sailsky's POE switches are fanless, so the device generates no noise burden during operations. It is suitable for home and office use as well as in public places such as offices, schools, and hospitals. These places might have sensitive equipment which could be damaged by excess noise levels generated by other products.
Safe Operating Temperatures:
The product comes with an efficient cooling system that keeps the temperature within safe operating limits so that you don't have to worry about damaging expensive equipment due to overheating issues or delays caused by overheating issues in the device itself. Sailsky can work normally at a standard operating temperature of -40 to 75 degrees Celsius, and there is no need to worry about equipment damage caused by temperature.
Made Of Environmentally Friendly Materials:
Switch POE 8 Port is made of environmentally friendly materials. The new type of material is safe to use, and it will not cause any interference with other devices. It also does not emit other odors during use.
The Industrial Switch POE 8 Port Can Help You A Lot:
Switch POE 8 Port is a powerful industrial-grade switch that can help you a lot. It is the perfect device if you want to connect 8 devices at the same time. It's designed with premium materials for excellent performance. It also has many features that can make your work and life easier.
Why would people choose industrial-grade POE switches? The answer is simple. The Internet connection can also be integrated into the network so that you can use the switch to connect a large number of devices. Of course, this is only possible if you have a good industrial power supply.
With the help of an industrial power supply, it will be much easier for you to build a large-scale IoT project with your friends or colleagues. You can use it to build many different types of projects in different industries such as agriculture, transportation, logistics, and so on.
Industrial power supply has been widely used in many different areas. It is widely used in high-end equipment such as servers and routers as well as home appliances such as refrigerators and air conditioners and even mobile phones!
Sailsky Offers You High-Quality Switch POE 8 Port:
Sailsky is a professional company with nearly 10 years of experience in the production of wireless telecommunication network equipment. It also provides people with many different types of POE switches. Among them, Switch POE 8 Port is one of their most popular industrial-grade switches.
You can trust Sailsky's products because they have provided thousands of customers with excellent service over the years and are appreciated by many users. At the same time, they also have professional online customer service staff, you can ask them at any time to get a more professional answer.