The explanation for the term "PoE Switch"
A PoE switch, short for power over Ethernet switch, is a type of network switch that incorporates PoE technology. An Ethernet cable can serve two purposes at once by connecting a network and powering a PD (powered device) using a PoE network switch. The market is currently flooded with a wide variety of PoE network switches. Depending on your needs, you can choose from 8, 12, 24, or 48 ports when shopping for a PoE switch. When it comes to the command and management of your network, you can choose unmanaged PoE switches from Sailsky. The model SY-24G2SP is the 24 port PoE gigabit switch.
24 port PoE gigabit switch have several potential applications in a variety of settings, both indoors and out. Multiple devices can receive power and data at the same time. A variety of home electronics, including televisions, computer monitors, and laptops, can be powered via Ethernet (PoE). VoIP and video phones, IP cameras, wireless AP, audio devices, remote computer terminals, etc., are all useful workplace additions.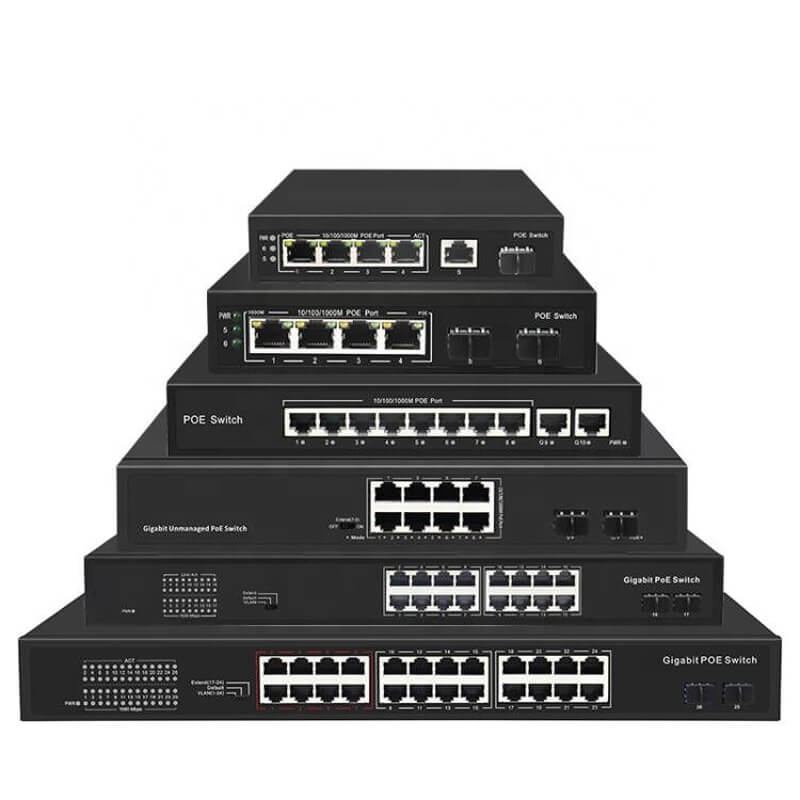 Why Would One Want to Make Use of It? How Should It Be Used?
Large-scale industrial applications, such as transportation, public facility, and factory automation, require a vast number of devices, which invariably results in a tangle of wires. 24 port PoE gigabit switch technology has become more popular among users as a result of its capacity to provide higher power with a reduced number of cables. This ability has contributed to the spread of ever-more-powerful industrial devices.
24 port PoE gigabit switch are a type of network switch that makes use of the Power over Ethernet (PoE) technology. When utilized with a large number of network devices, PoE switches may simultaneously transmit power and data over a single Ethernet cable, which considerably simplifies the process of wiring the network and lowers the cost of the network. A PoE network switch could be an eight-, twelve-, twenty-four-, or forty-eight-port model, and it could either be unmanaged or managed, depending on the number of ports that it possesses.
When Is It Appropriate to Make Use of a PoE Switch?
Using a 24 port PoE gigabit switch in an installation can provide a number of useful benefits, including the following examples:
The Power over Ethernet (PoE) switch eliminates the requirement for separate power cables by distributing power over an Ethernet wire. This allows the switch to be portable. Because of this, it is possible to position the necessary equipment exactly where it is needed. It's possible that you won't need to use as many wires if you take advantage of Power over Ethernet (PoE) and wireless technology.
Power over Ethernet is a reliable technology since it eliminates the need for multiple wall outlets that are incompatible with one another. In the event that there is an issue, you can use a backup power supply called an uninterruptible power supply.
Money Saved
Users do not have to purchase and install additional electrical lines and outlets when using a network switch that supports Power over Ethernet (PoE), which results in substantial savings during the process of setting up and maintaining the network.
What Is the Proper Way to Configure a PoE Switch?
After learning how a 24 port PoE gigabit switch works, do you feel like you have a better understanding of its function? PoE switches are typically required for IP cameras, VoIP phones, and wireless access points. These three types of devices are the most prevalent.
CCTV system that has an IP camera integrated into it
The transmission of both power and data from a PoE switch to a PoE-enabled IP camera system can be accomplished through the use of network connections. It is now normal practice for an IP security camera to have a switch that is operated by Power over Ethernet (PoE), regardless of the industry or location. This is done to protect both persons and property.
Internet Protocol-based telephone and fax communications (VoIP)
The first and most common application of Power over Ethernet is the Voice over Internet Protocol (VoIP) phone, which only needs a single cable connection to an electrical outlet. It is possible to cut off its power from a distance. A gigabit PoE switch and a data network cable is all that are required to make this connection. The corporate VoIP implementation expenses have been reduced as a direct result of the installation of the PoE switch, and the company's capacity for communication has been enhanced.
The signal quality of a wireless network can be considerably improved by utilizing Power over Ethernet, or PoE. The evolution of wireless network technology is profoundly influenced by the Power over Ethernet (PoE) standard, which allows a single Ethernet cable to deliver both data and power to a device. The procedure of installing controllers and access points can be streamlined by utilizing a switch that supports Power over Ethernet (PoE). When it comes to establishing a wireless network in a commercial environment, this approach is widely regarded as the most common one. Thanks to 24 port PoE gigabit switch.
Conclusion
Because energy is transferred through the network connection, cable construction can be completed more quickly and at a lower cost when using PoE technology. We have high hopes that by the time you have finished reading this article, you will have a much better understanding of the ideas behind the Power over Ethernet switch (PoE) and the uses it has.
In the past, connecting IP cameras, VoIP phones, and wireless access points to a network via a switch that supported Power over Ethernet (PoE) wasn't the most practical option. The pricing of Sailsky PoE switch is very attractive when compared to the prices offered by other suppliers, regardless of whether you're searching for an 8-port, 24-port, or 48-port PoE switch. In addition, 24 port PoE gigabit switches are available to satisfy your varied network requirements.