What is 4g router with sim card slot and how does it work?
2021.11.24 / By hqt
Finding the best 4g router with sim card slot doesn't have to be a complicated mission, you know? To make a good purchase decision, you just need to pay attention to some basic criteria that will help you maintain a qualitative connection not only when watching your favourite series and movies, but also when playing or working.
The XM41 4G Mobile WiFi Hotspot is a new 4G pocket WiFi router with 3000mAh battery. It acts as your mobile wifi hotspot to share the LTE connection with up to 10 devices, users can connect to this reliable router in minutes and start sharing it. Upload or download any files or media, stream HD video and music, make VoIP calls, play online games and much more!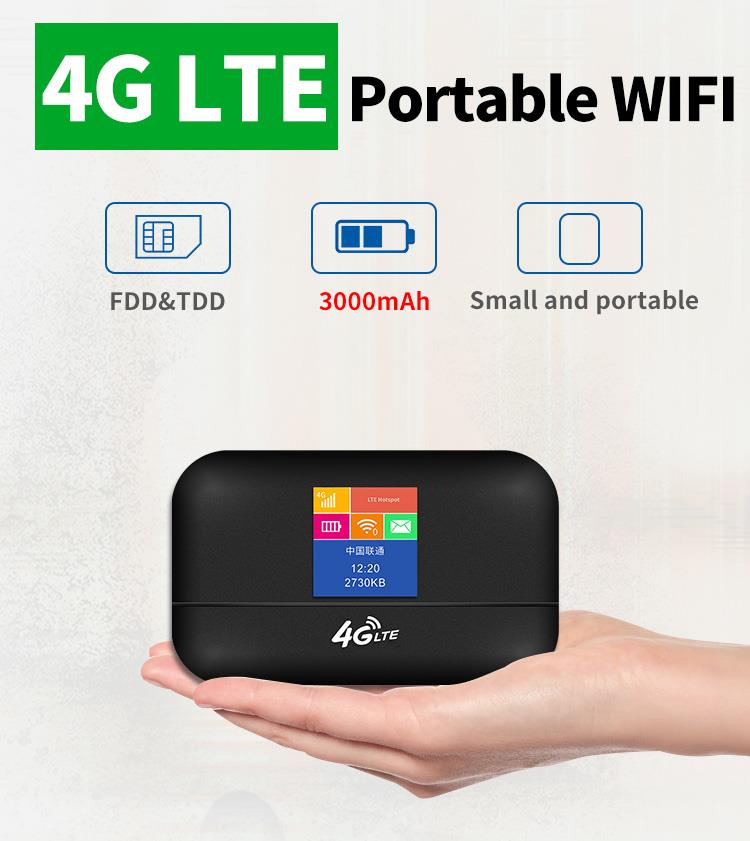 4g router with sim card slot Datasheet:
| | |
| --- | --- |
| Model | XM41 |
| Product keywords | 4G LTE Mifi |
| Chipset | ZX7520m |
| Standard | IEEE 802.11b/g/n |
| Frequency | 2.4GHz |
| Frequency bands | FDD band: B1/B3/B5/B7/B8/B20TDD band: B38/B40/B41UMTS: B1/B5/B8 |
| Wireless data rate | 150Mbps |
| Interface | Micro USBSIM: Standard SIM Cardone power buttonKey: WIFI AP/WPS keyOne lanyard holdOne display screen |
The principle of 4G router:
The wireless 4G module is mainly built into the original router. The user can first use the billing meter (SIM card) to insert the 4G router, and obtain it through the operator's 4G network dial-up, network WCDMA, TD-SCDMA, data transmission, Internet access, etc.
The router has the WIFI function of sharing the Internet, if the mobile phone, computer or psp has the wireless card or wifi function, you can access the Internet through the 4G wireless router, which is very useful for sharing the 3G wireless network in the wireless local area network.
Some manufacturers have wired broadband interfaces that allow normal Internet access without 4G. 4G wireless routers allow broadband connections, and in applications such as monochrome networks, it has become very common to meet or exceed the current network bandwidth of ADSL.
The role of 4G industrial routers
Improve data processing and transmission speed
With high-performance MIPS core, providing high-capacity memory cache (DDR2-1Gbits), powerful performance and excellent performance to meet the performance requirements of large-scale data transfer applications (such as images and videos)
Network and Communication
Compared with ordinary routers, the replicated industrial environment also puts forward higher requirements for industrial routers. 4G industrial routers use high-performance industrial-grade 4G wireless modules, provide industrial-grade high security and high-precision components, an extremely wide temperature correction screen from -40 to +85 degrees Celsius, easy to adapt to high temperature and cold working environments, reliable network and no Cybersecurity communication of human systems.
2/3/4G signal self-switching
The dual 4G antenna signal is more stable. In addition to the two LTE standards of FDD-LTE/TD-LTE, it is also backward compatible with 2G/3G and supports td-scdma/wcdma/edge.
Stable WIFI signal
Dual Wi-Fi antenna signals support 802.11b/g/n and up to 24 wireless STA connections with automatic and manual channel selection. In addition, the WIFI signal supports WPA/WPA2, WEP and other encryption methods, and the WIFI signal is safe and stable
conclusion:
There's many advantages of using 4g router with sim card slot which makes it top choice for customers. The portable wifi hostpot device has also been made strong enough to be used on a daily routine. It can bear jerk and damage. The device can automatically detect network coverage of 4G LTE or other 4G Bands, connecting to the most fast network in seconds!