Which Is The Best 5g Modem Router For Home in 2022?
2022.04.14 / By hqt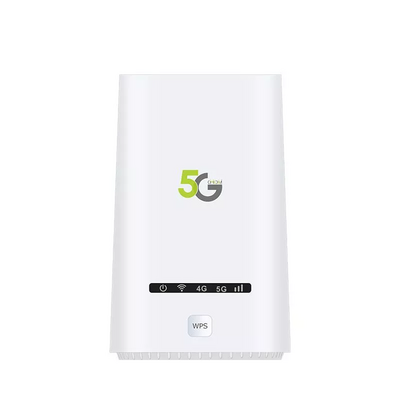 In today's rapidly developing world, having access to a reliable and speedy internet connection is essential. Since 5G has taken place of 4G LTE networks with massive downloading and uploading speed, customers are seeking to have a such a device for their home. The 5G Modem or a 5G wifi router is an option if you don't have access to an ADSL line and cannot set up a fast Internet connection.
In order to get the most of this Fifth-Generation mobile network, however, a 5G wifi router with SIM card is recommended. This will not only help you get rid of ADSL, cable costs and connection but will also offer your slightly less 5G data packages. Find out which home 5g modem with sim slot is ideal for your requirements by reading this article.
What exactly is a 5G internet modem?
The term 5G means Fifth Generation internet. The whole network is distributed into layers of internet network like a web. These layers are known as network generations namely 1st Generation, 2nd Generation, 3rd Generation, 4th Generation and Finally the 5th Genetation or 1G, 2G, 3G, 4G and 5G respectively. Each layer has its own bandwidth, data rates, donwloading speed and uploading speed along with other measures like latency and capacity.
Among which the fifth generation or 5G is most advanced form of internet with exceptional features that we will discuss now.
So for each generations there are modems and rotuers that were introduced to transmit and recieve data. These modems or wifi routers that are capable of tranferring data at 5G network are known as 5G modem or 5G Wifi Routers.
5G Home Internet Speed vs 5G Internet Speed
In the world of internet the word "speed" is compiled with different factors like latency and capacity, bandwidth, frequency, and band. However, the speed of a 5G internet is 100 times faster than a 4G LTE network speed. It has been calculated 5G internet speed is nearly to 20 Gigabits per second officially recorded at peak data rates. While 100+ Megabits per second (Mbps) on average data rates.
But when it comes for a home wifi connection, does the speed of a 5G internet for home remains same? The answer is no! The speed at home is rated fairly less than the global 5g internet speed. That's because the data transmission through a 5G Wifi Router or 5G modem is affected from many factors that affects the overall performance for a home based wifi network:
These factors are:
Distance between a 5G tower and 5G modem
5G SIM provider's bandwidth capacity
Capacity of a 5G wireless router to transmit data
Technology of 5G modem or 5G wifi router
Best 5g Routers Of 2022
Even if you cannot install a landline or ADSL, it is really convenient to be able to enjoy a lightning-fast connection. All of this is achievable with new networks, such as 5g modem for the house, and more and more regions of the world now have access to mobile internet that is faster and more reliable than before.
Although there are an increasing number of 5G-compatible smartphones, this is not the case with so-called "bars of soap." However, this does not imply that you would swap your mobile phone for 5G internet at home. Either a 5G modem or a 5G wifi router that can accept a 5G SIM card and give 5G coverage at home are available.
Qualities of the best 5G modem available on the market
The best 5G modem on the market is one that offers fast and reliable internet speeds, along with a range of features to enhance your connectivity experience. Some of the key features to consider include support for multiple 5G bands, compatibility with a variety of devices, and easy setup and management.
In addition, a good 5G supported modem should be durable and built to withstand harsh environments, as well as offer security features to protect your network from potential threats. Some of the top 5G routers and modem brands to consider include Sailsky, Netgear, TP-Link, and Huawei. With the Sailsky 5G modem, you can enjoy lightning-fast internet speeds and seamless connectivity.
5g Modem For Home Has Unique Features Than Other Local Models
5g modem for home has a unique feature that makes it very interesting for professionals. Thanks to a 5G nano-sim and you can enjoy the high speed internet without the disturbance. Connect as many as 32 devices to 64 devices at the same time.
Is 5g modem better option as compated to a usb cellular modem?
Both of the devices has own use and specifications. When it comes to the 5g modem for home this means a device capable of providing a large bandwidth, connecting many devices at the same time, also it is powered-on all time to provide a 5G internet.
While a USB cellular modem has limitations to work only when connect with a USB port. It means the device has a special purpose to be used for limited use and need USB port to connect. It is kind of portable option best for laptop users, and while travelling you can switch it on via the car's USB charging port.
5g Modem For Home Is One Of The Bestselling Products
This 5g modem for home is one of the bestselling products and the one with probably the best value for money. It supports all Italian operators, including Iliad but, of course, we recommend that you may check compatibility with your manager before buying it or read the special details before purchasing. The signal reception is excellent and the Wi-Fi diffusion is exceptional, able to cover even large accommodations without any blockage or being unresponsive.
Is there any 5G modem For Home?
The answer is yes! Our best pick is Sailsky 5g modem router: Openwrt XM520 5G CPE Modem Router, also a WiFi 6 CPE Modem Router. Having 3100mbps dual band (2.4Ghz to 5Ghz) with sim card slot. The 5g router is perfect to be used at home, office or anywhere providing the fast 5G internet connection. It is known to be the most reliable source of internet coverage. Also the best pick for a 5G home internet speed.
Modem 4-gigabit ports
The 5g modem for home is dual band ac1200 and emits both 2.4GHz and 5. On the back, there are also 4-gigabit ports where you can possibly connect your desktop or another device. The SIM slot is located on the back and the device is practically plugged and play, that is, just insert it (remove the pin first) and plug it in, which starts immediately.
5g Modem For Home
Easy Configuration – A Few Steps and All Set!
You connect it to the power supply, insert the sim, and configure it easily. In a few moments, the network is already available to connect and supports up to 64 devices.
The Smart Dual Band 5g modem for the home extends both vertically and horizontally. Which is ideal for apartments or multi-story homes with dead corners. With the new 5G multimode chipset it offers download speeds of up to 2.3 GB / s, but unless conditions are more than optimal, do not be under the illusion that you can reach this number in everyday use.
There is also an Ethernet connection if you need maximum speed or if you have a desktop PC without a network card.
Conclusion:
Having a 5G modem or a 5G wifi device is an easiet way to access to the fastest internet without installing fiber optics and ADSL services. Just you have to purchase a 5G Modem and 5G Wifi Router with SIM Card Slot and you are perfect to go.
If you're going to be investing money into a product then you want to make sure it is the best possible product for your needs. An informed consumer is the best consumer; take your time, do your research SAILSKY and pick the right 5G modem for home, business or personal use.