10 Facts About PoE Switch 24 Port: Ultimate Guide
2022.02.26 / By hqt
Many people have doubts about what is a PoE switch 24 port and what is its application to IP cameras. These cameras are recent technologies and not all electronic security professionals are familiar with them.
That's why we've separated some essential information for you to master this topic once and for all! Keep reading and check it out!


What is PoE technology?
Every computer peripheral need electrical energy to work, doesn't it?
So, when installing an access point or IP phone, for example, we need a network connection and a power supply. This can be a big challenge, as the best location for a device is not always easy to access the electrical current.
Well, PoE switch 24 port technology emerged as a solution to this difficulty, using idle wires (which do not transmit data) of the network cable itself to power peripheral devices.
As a result, we don't need to expand the electrical installation every time we want an expansion in the network – just a single simple connection.
What is a PoE switch?
The switch is a device that receives data packets (sound, image, text files, etc.) and forwards them to the devices connected to it.
In turn, a PoE switch 24 port also performs a second function. This device detects devices compatible with PoE technology and, if applicable, supplies the electrical energy through the network cable itself. It is a system with numerous advantages.
What are the advantages of PoE switch?
Using a PoE switch brings the following advantages:
Eliminate the need for a source of electrical current for each peripheral connected to the network, reducing costs, cables and labor;
Facilitate the installation of peripherals in hard-to-reach places;
Allow the connection of both devices that support POE technology and common devices, thanks to the detection system;
Send electrical energy already leveled by a stabilizer;
Centralize the power supply.
All this can contribute to optimizing a security system, as well as being very well used with the use of IP cameras. See below!
How do IP cameras use the PoE switch 24 port?
PoE technology can bring numerous benefits with the use of IP cameras, which are normally computer peripherals compatible with this feature.
In this system, the PoE switch distributes electrical energy to such cameras, which already use the network cable to send data — from footage, for example. Thus, all labor and special logistics necessary to expand the electrical installation of a residence, commercial room, building, etc. eliminate.
The camera system is more advantageous with a POE switch
PoE switch 24 port only sends the current necessary for the camera to work and eliminates the need for possible hacks, which often use to connect peripherals to electrical energy. Which leads to reduce consumption and the risk of short.
Therefore, using the PoE switch in IP cameras can be an excellent option to optimize resources and facilitate the maintenance of your security system.
Power over Ethernet: transmit electrical energy
Power over Ethernet is the technology that allows you to transmit electrical energy over the network cable. In this way, it is possible to electrically power devices without the need to run power cables and use electrical power supplies.
Obviously, these devices called "Powered Device", or simply PD, must accept power through PoE switch 24 port. As an example, we can mention IP cameras, VoIP phones and also access points for wireless networks.
The equipment that electrically feeds the devices is called "Power Sourcing Equipment" or PSE. This type of switch may or may not be manageable and may or may not have all ports with these characteristics.
Another type of PSE would be the "midspan", more popularly known as "PoE injector". This type of equipment uses when there is a need in the network to use equipment with PoE power and the switch does not have this function.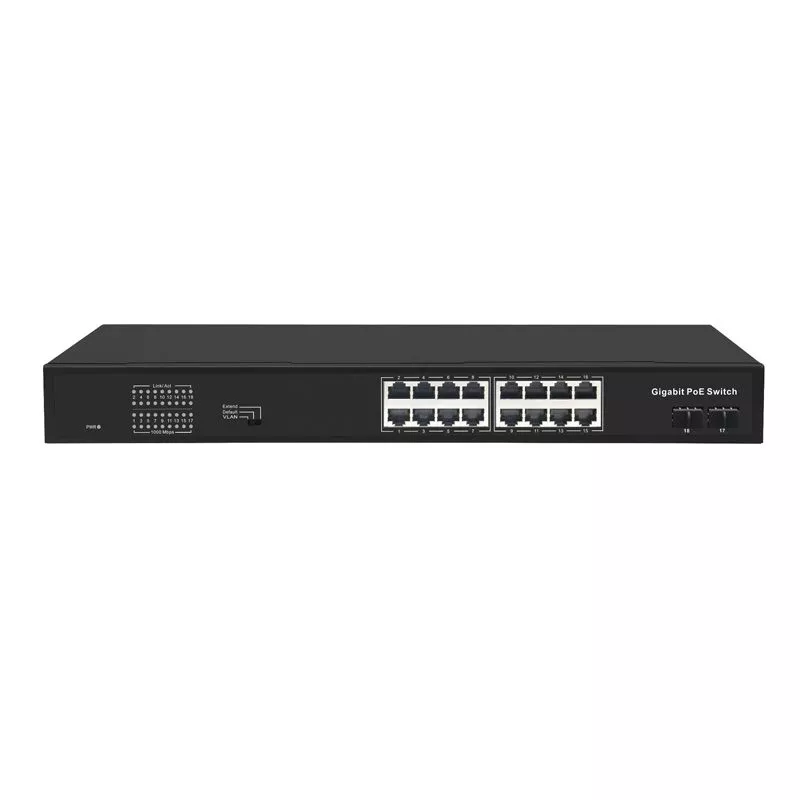 Non-standard products for specific applications
PoE switch 24 port technology is relatively new and still under development, and there are non-standard products for specific applications. Let's just get to know the two main groups:
IEEE 802.3af: This standard allows power supply of up to 15.4W per port (minimum 44V DC and 350mA). However, as the gauge of a network cable is small, only 12.95W guarantee.
IEEE 802.3at: Also known as PoE+ (or PoE plus), it provides a higher power, 25.5W. This type of power is especially useful for devices that require more electrical power, such as mobile cameras.
Maximum power and variation per port
The IEEE 802.3af standard has a method that identifies a PD and classifies its power needs according to the parameters below:
• Up to 15.4W (0.44–12.95W on PD; standard)
• Class 2: Up to 4 W (0.44–3.84W on PD)
• Up to 7W (3.84–6.49W on PD)
• Class 4: Up to 15.4W (6.49–12.95W on PD)
In the IEEE 802.3at standard we have class 4: 30.00W in the PSE (12.95W to 25.50W in the PD).
This information is important to determine the maximum power that the switch must supply to power the devices used in our project.
What are two PoE switch 24 port power modes?
There are two PoE power modes:
Mode A: In this type, power is sent along with the data, much like "phantom power" in microphones.
Mode B: In this case, the power is sent on pairs of wires separate from the wires that transmit the data. Power uses wires 4 and 5 (positive) and 7 and 8 (negative).
What to take into consideration in your IP CCTV project?
This technology initially created to meet the power demand of VoIP phones, which often have low consumption. When the security professional is going to use IP cameras with PoE switch 24 port technology. He must consider their consumption; this information must appear in the product catalog.
Each port on the switch will supply the desired power
The simplest rule is to sum up the maximum consumption of all cameras and check if the total power supplied by the PoE switch is enough. Make sure that each port on the switch will supply the desired power for that particular camera.
PoE switch 24 port is also important to take into account the distances recommended by the switch manufacturer and the category of cable used.
Did you like this content? Was the post helpful? Share it on your social networks and help others!