The pocket router is a small wifi box that can distribute the Internet using a sim card. The term "pocket router" means a portable router that can fit in your pocket while provide you 4G wifi where ever you go. These routers are also known as MiFi, a mobile hotspot or a portable wifi router.
Technically: The wifi router distributes the corresponding data packets, assigns IP addresses and ensures the necessary order.
Choosing a 4G Pocket Router in 2023
When choosing the right 4G LTE pocket router, four points are particularly important:
1) High transmission rates for high speeds
2) Intelligent channel change, if too many devices are already using the same WLAN channel at the same time. In addition, the router should.
3) Capability of a dual band. This means that it should not only cover 2.4 GHz (WLAN 802.11n), but also the 5 GHz frequency range (802.11ac).
4) band steering, on the other hand, ensures that the router automatically uses the fastest network.
4g pocket router: Good investment for a long time
A portable wifi box with 2.4 GHz or 5 GHz can communicate with both, the new devices or old devices. These pocket wifi routers can deliver you a fast speed, long-lasting battery, and a cheap solution for a mobile wifi router.
From playing games, to watching videos the wifi router over 4G LTE network can provide you a smooth and fast internet experience.
Which 4g pocket router is best suited for which situation? Can a router also be used as a so-called repeater, i.e. as a signal amplifier? For example, to stabilize the Internet in the converted attic? There are plenty of good wireless routers out there. For this reason, we simply looked at the current offers and compared them with each other.
Google Nest Wifi: Mesh 4g pocket router with repeater function
The Google Nest Wifi is a wireless router that can be perfectly integrated into Google's ecosystem. This is how it is installed in the Google Home app. In other words, exactly where, for example, smart speakers and compatible devices such as lamps from Philips Hue or thermostats from tado ° can be controlled. In this way, the pocket router becomes part of your smart home at the same time.
Three products from the Google Nest Wifi series side by side in different colors.
Google Nest Wifi ensures excellent WiFi coverage in around 120 square meters of living space.
Put on in next to no time, the WLAN 4g pocket router supplies up to 100 devices in your home with Internet. Thanks to its hardware requirements, it is really stable in the 2.4 GHz frequency range – mesh network function included. If you prefer to connect a device by cable: the Google Nest Wifi has two 1 Gigabit Ethernet ports.
The main advantage of the device is, on the one hand, the security updates that are imported automatically. So you are always protected from virtual dangers. On the other hand, the device impresses with its range of functions. Network devices can always be prioritized to provide them with the best signal.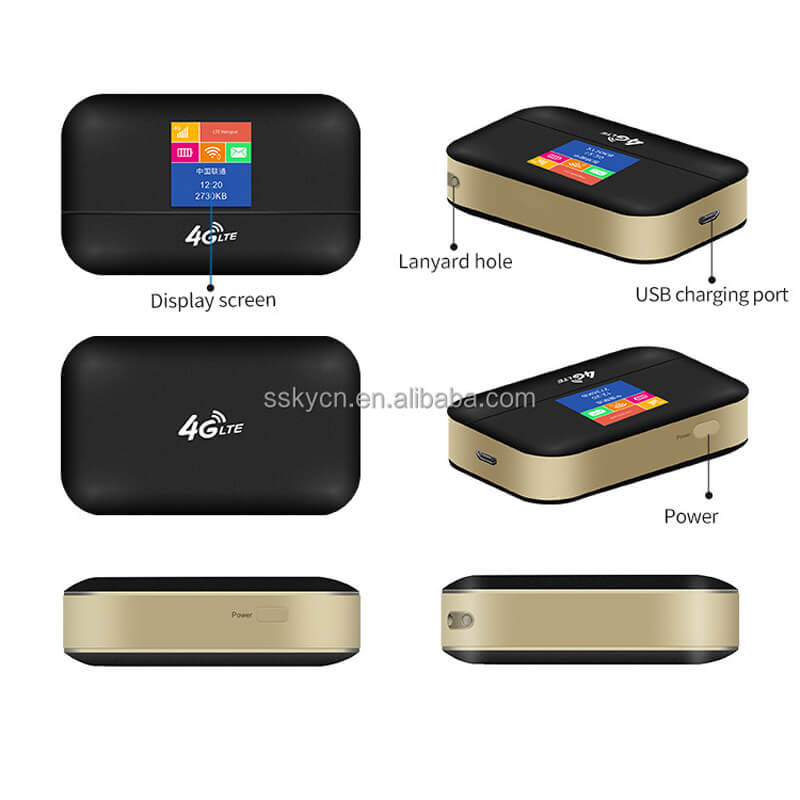 4g pocket router with tri-band mesh network
This means that there are no unwanted interruptions during series streaming on the SmartTV. Usage times and content blocking can also be set with the wireless router. So that the youngsters can also surf the Internet safely.
The special thing about this WLAN 4g pocket router is already in its name. In addition to mesh technology, it also offers a total of three frequency bands in order to offer reliable WiFi at all times. One is in the 2.4 GHz range and two in the 5 GHz range. The router automatically selects the fastest frequency band.
The XM41 4G Mobile WiFi Hotspot is a new 4G pocket WiFi router with battery 3000Mah. XM41 is a LTE Category 4 mobile hotspot which could support peak download speed to 150Mbps.
This Portable WiFi Router is able to connect with tablet pc,notebook and different types of wifi devices
High speed to link, LTE download speed up to 150M
Friendly user interface
Maximum 5-6 hours working by battery 3000mah
10 Users connection support
Conclusion
By the way: With Sailsky XM41, you can use to monitor your home. And all of this without cameras or smart sensors. The Sailsky XM41router has the built-in option of detecting movements.