A Faster Surfing Experience Comes With Great Speed!
What Is A Wireless 4G Router WiFi With Sim Card?
A router is an essential device for people who use the Internet at home. The router is used to connect multiple devices to the Internet and access the network at home. It can also be used to connect more than one computer or mobile phone to the same network. The router allows you to share files and folders with other users on your local area network (LAN).
The most important feature of a WiFi 4G router is that it supports 4G LTE connections. This means that it can connect to mobile networks with high speed (up to 300 Mbps), allowing you to take advantage of mobile data plans and not just Wi-Fi networks.
The router's SIM card supports 3G and 4G networks, so you can enjoy high-speed internet access when using this device. The router also comes with Wi-Fi technology that allows users to connect their devices without any wires or cables.
New Features Of The Router WiFi 4G With Sim Card:
Sailsky's Router WiFi 4G With Sim Card can provide users with an uninterrupted 4G Internet experience. This Fast 4G Wireless Wifi Router With Sim Card is powerful and suitable for various applications. Next, I will briefly introduce its features to you:
Higher Transfer Rates:
Sailsky's Router WiFi 4G With Sim Card uses MIMO technology, which allows it to have a higher transmission rate. Meanwhile, MIMO technology is used to provide better wireless transmission performance, stability, and wireless coverage. This Fast 4G Wireless Wifi Router With Sim Card supports the user's 3G/4G/GSM mobile network and supports the use of multiple frequency bands by different ISPs around the world. Within the signal range of this router, the user's data transfer rate can reach up to 300M/bps. With the help of a router, you can easily surf the Internet without worrying about the interruption of the signal.
Wider Signal Range:
This Router WiFi 4G With Sim Card can be adapted to many workplaces or home applications. Its signal coverage is 50-100 meters, which can support the normal use of most applications. At the same time, it has a built-in high-performance antenna, which can cover the transmission of all long-distance information and data.
Safer And More Durable:
This wifi router is equipped with a 5000mAh battery that can provide users with +24 hours of durable backup. This way, users can find backups in the event of data loss. It also comes with fast charging technology and a dedicated port to securely connect an Ethernet cable. It is also very powerful in terms of security protection capabilities. At the same time, it also supports 64/128-bit WEP encryption, 128-bit WPA standard encryption (TKIP/AES), and supports simultaneous broadcasting of multiple SSIDs.
Also, on the hardware side, the device is installed with high power voltage protection. This setting allows it to charge intelligently while maintaining the most battery-saving state to ensure its maximum performance.
More User-Friendly And Smarter:
When we see its screen, we will find that its display is very user-friendly. Because it contains a 4G indicator, DC indicator, WiFi indicator, and power indicator. These lights will let you know the activity status of 4G, WiFi, and more. It also allows users to choose from energy-saving mode, standard mode, and through-the-wall mode. The user can complete the operation by intelligently defining the radio frequency options on the home page.
Why Could It Give You A Faster Surfing Speed?
Sailsky's Router WiFi 4G With Sim Card uses MIMO technology. But do you know what is MIMO? MIMO stands for Multiple Input Multiple Output. It is a wireless communications technology that allows multiple antennas to transmit and receive data at the same time. The data from each antenna is sent over a different radio channel, so the signals don't interfere with each other. MIMO was originally developed for use in 4G LTE networks, but it can also be used in Wi-Fi routers.
In the application of MIMO technology in routers, each antenna can transmit and receive data at the same time. At the same time, it can also use multiple antennas to increase the speed of data transmission. This means that a router with two antennas can transmit data twice as fast as a router with one antenna.
What's more, there are many kinds of MIMO technologies in use today. The most common ones are 2×2 MIMO (2 transmitters and 2 receivers) and 3×3 MIMO (3 transmitters and 3 receivers). The number after "X" represents how many transmitters and receivers there are in a single device. So if you want to know how much faster your internet speed will be when using a 3×3 MIMO router compared to a dual frequency 2×2 MIMO router, just subtract 1 from 3 to get 2 — that's how many times faster it will be.
The reason why Sailsky can provide users with such fast internet speeds is that MIMO technologies could increase the throughput rate of the router by up to three times compared to traditional routers. The Fast 4G Wireless Wifi Router With Sim Card is a first choice when you want a non-stop surfing without interruption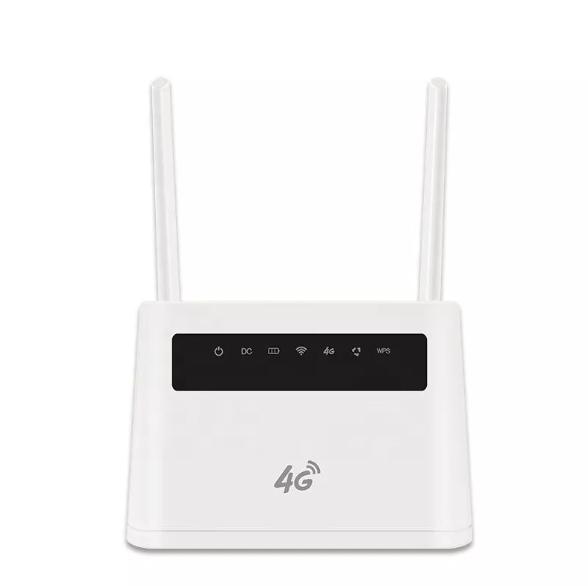 Tips For Using A Router WiFi 4G With Sim Card:
How to turn your router into a web surfing artifact? After purchasing a good Router WiFi 4G With Sim Card, you need to install it in a place with a good signal. Here are some tips to make better use of your router:
Check Your Room:
Check whether there is enough room for the router and the wireless network adapter to work properly. If there is not enough room, you can use an external antenna, which allows you to improve the signal strength of your device. Make sure that there are no obstacles between the router and the wireless network adapter, such as walls and furniture, which will affect the quality of your signal strength from the 4G wireless router.
Check For Distractors:
Make sure that there are no computers or other devices that may interfere with your router's connection speed (such as cordless phones or microwaves). The wireless 4G LTE routers have strong interference resistance capabilities and can maintain stable connections even if other devices are using them at the same time as well as when using multiple devices at once (e.g., streaming videos from Netflix).
Open It:
After turning on your device for the first time, wait for it to fully boot up before connecting it to your computer or mobile phone by USB cable. If you do not see any network connection after connecting, please wait for about 5 minutes. If there is still no network connection after waiting 10 minutes, please turn it off and then turn it on again on your device.